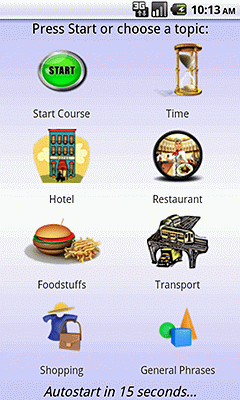 Ectaco is happy to present a brand new set of language learning apps for Android – Ectaco U-Learn which is specifically designed for those who want to learn any language on the go.
You can use the U-Learn app while driving, walking, or even on the train or bus, and you're not even required to look at the screen. Each app will go through 7 levels of training to get you speaking a foreign language using the specially engineered voice recognition system that corrects your pronunciation, asks you questions, and lets you do the talking. The program is fully interactive so it's as if you're speaking to a real human tutor.
NO NEED FOR AN INTERNET CONNECTION OR 3G - each app comes pre-loaded with everything you need for offline translation.
The Ectaco U-Learn app for Android features 7 levels of training:
Time
Hotels
Restaurants
Foodstuffs
Transport
Shopping
General Phrases
This week only!
Order any ECTACO U-Learn app for Android listed below for a special promo price of only $19.95!