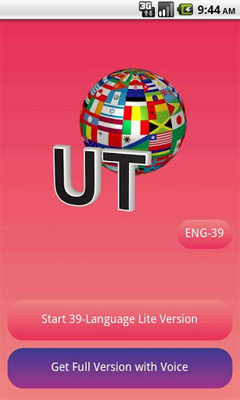 Ectaco Inc., the world leader in language translation and learning technology, is proud to present a whole suite of free apps for Android which does not require an Internet connection and allows instant bi-directional translation between different languages. Both bilingual and multilingual versions of the Ectaco Universal Translator apps have been released and are currently available for free download from Google Play.
The free Universal Translator software includes the following features:
Bilingual dictionary
Bi-directional translation
Part-of-speech labels
Transcriptions
Instant search that gives suggestions as you type
Quick reverse translation for any entry
Change the translation direction simply by tapping a button
Quick access to adjacent words when viewing translations
History function to view and select words that have been translated
Integrated support for the Bluetooth C-Pen scanner for text input
Check out the full list of Ectaco UT apps currently available for free download:
For a limited time, you can also order the FULL versions of the Ectaco Universal Translator apps for only $4.95/$9.95! The full versions feature True Voice human pronunciation of all words included in the apps.
This price is available this week only for the apps listed below, which can be purchased directly from Google Play.