Always one step ahead, LingvoSoft has just released the Dictionary 2021 series of translating dictionaries for Windows Mobile Pocket PC. These essential language solutions are remarkable tools that will help you out in business, study or travel situations.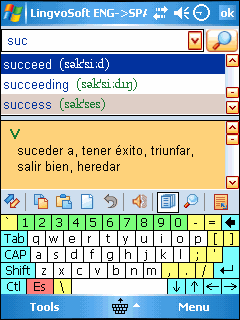 LingvoSoft introduces the LingvoSoft Dictionary 2021 for Pocket PC. Newly improved and updated, including a whole host of new features, it is now more useful than ever before. Being a part of LingvoSoft Suite, LingvoSoft Dictionary 2021 for Pocket PC allows you to build your own personal language management team.



The new LingvoSoft Dictionary 2021 for Windows Mobile Pocket PC consists of three elements. Here at LingvoSoft we call it "ILI conception" — Interface, Linguistic, Integration.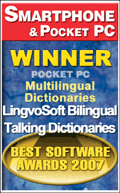 Linguistic
Extended and corrected vocabulary


Advanced Spell-Check function (lets you find misspelled and incorrectly entered words)


Sophisticated Synonyms search (you can request the list of synonyms for selected word)


Translations complete with part of speech, gender, comment, transcription, sentence examples


Includes transcriptions for English entries


Language information included for almost 40 languages


English Grammar information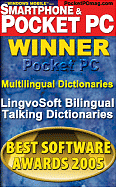 Interface
State-of-the-art Text To Speech functionality (TTS)


Adjustable user interface (toolbars, font settings, colors, etc.)


English, French, German, Spanish and Russian language interfaces


LingvoSoft Virtual Keyboard and trouble-free using of special signs and language specific symbols


Quick paste and translate (helps you to translated the selected word in other application with just one click)


Personalized User Dictionaries (you can create, add, and edit you personal dictionaries)


Input Line search speeds up the work by finding the words for any symbol sequence as entered


History function lets you easily view and select previously entered words.


Integration
Full Integration with LingvoSoft FlashCards and LingvoSoft PhraseBook. You can export selected words to FlashCards database or search PhraseBook for the phrases containing the desired word.


Integrated with Microsoft Pocket Internet Explorer. A small toolbar lets you pass the selected word to dictionary form web-page.


Find the new LingvoSoft Dictionaries 2021 for Pocket PC here:
You can also use our advanced Search Wizard to find the language pair you are interested in.
Also check out NEW LingvoSoft Picture dictionaries for Windows and Windows Mobile Pocket PC:

LingvoSoft Picture dictionaries make communicating and learning another language as easy as child?s play!

Click here to learn more.
LingvoSoft Dictionary 2021: A new generation of dictionaries.